Hey Guys!  You probably noticed a few things look a little different around here at fallfordesign.com.  I'm so incredibly excited to focus my brand on what I do, and what better opportunity is there to build your website around your brand and what you do!  A lot of you guys come to me for design services, and it's about time I have something to offer to you right here on Fall For Design.  You'll see the front of our website, fallfordesign.com, got a little mini make-over with the focus of YOU in mind!  It no longer directs you to our three stores on etsy, but now you can shop some of our products right here on fallfordesign.com!  It makes it incredibly easy.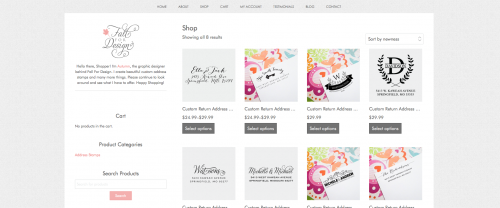 Each day I continue to make progress in all areas of life.  Rather that be business or personal.  I'm sure there will be some more tweaks here at Fall For Design, they'll mostly go unnoticed and won't affect your shopping experience.
Our store only showcases 8 of our stamp designs, but we have over 100 stamps!  Keep checking back for more of our designs.  Don't forget to check out what our customers are saying about our stamps on our testimonial page!
I'm so excited for this update and I can't wait to work with more amazing customers and design beautiful stamps for you,  your friends or your family members!