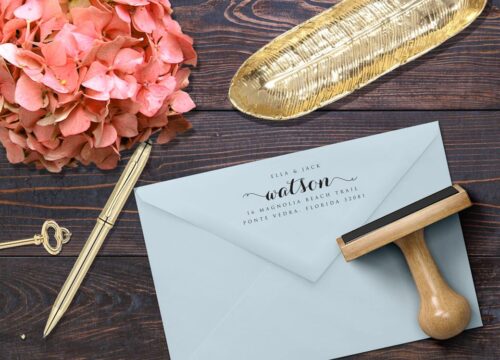 Hi guys, I'm popping in today to answer a frequent question that I receive:
Will this stamp fit on the back of an envelope flap?
While yes, yes it will.  However, it depends on the size of your envelope.  I always recommend to get a ruler and measure so you can see the space you're working with for your special project.  But I did think it would be fun to come up with a mock-up of an envelope and stamp combination.
The picture above is my best effort at putting together two graphic elements of an envelope, and the stamp design.  I measured the area of an A7 envelope (5×7 inches), and this is a close estimate of what a 2.5×1 inch stamp will look like when used on the flap of an envelope.
If you're interested in purchasing this stamp design, you can do so here.
In the mid-west it finally feels like Fall.  It's been in the high 60's and it feels so nice.  I hope wherever you're at in the world, that you're enjoying the weather as much as we are this weekend!