Please check below for answers to any questions you might have. If you do not find your answer, please contact us.
STAMP IMPRESSION ISSUES
Before the stamps are shipped, they are tested to make sure the impression is as pictured. The way the stamp is tested, is to grab the self inking stamp and pinch it with your fingers a couple of times. This will roll the stamp back up into the ink pad to try to get the most ink possible on your stamp before it's pressed onto the paper. With new rubber, it takes some time for the rubber to be more absorbent. Try this trick. If you get a stamp impression that shows (at least once), then we know it's not the stamp but just a matter of making sure the stamp gets enough ink to stick. This is just the nature of rubber stamps. :)
Often, stamping on a stuffed envelope will cause the surface to no longer be 100% flat. An uneven surface will also cause stamp quality issues.
If you purchased a self inking rubber stamp, you can stamp twice to get a thick bold impression like this instagram video (click here).
I'm so sorry to hear of your troubles. All our items advertise the sizes being sold. Our products listed for sale go through a quality department first before being available for sale. This quality department tests for legibility. We do not sell items that do not pass legibility tests. If another size is available, you're more then welcome to order a larger size in hopes this will meet your personal needs.
We apologize for what you are experiencing. It is not normal. Clients who have reported this problem have tried the below method and the issue has been resolved. Try this tip;
The ink in the self inking stamp is like a cake mix. It needs time to settle back down into the ink pad. If your stamping with no breaks, you will experience the ink fading. However, if you give your stamp some time for the ink to settle back down, you will have results like this;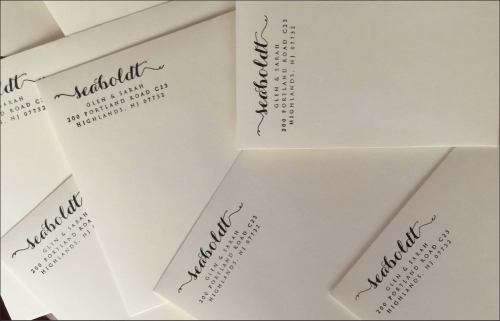 Also, stamping repeatedly on several envelopes will cause the ink to dry out rather quick. There's not enough time for the ink to "even out" in the ink pad before the rubber is pressed. Self Inking stamps/rubber stamps aren't made to act as if they are a desktop printer where a desktop printer can handle large ink jobs. Plus, it is the nature of a rubber stamp for each impression to appear rustic and unique. If a client is looking for a smooth impression each time, they may want to seek out pre-inked stamps (we do not offer any) or hire a professional printer to print on mass quantity envelopes.
A good test to see if it's the project that may be causing the uneven impression is to stamp on a flat piece of paper with a smooth table top surface.
CONTACTING US
Due to the amount of clients Fall For Design LLC has on a daily basis, Fall For Design LLC is unable to keep track of revisions/edits/questions, etc. via telephone.  Therefore, we require all questions, answers, requests for edits or changes to be sent via e-mail. This method helps us keep track of what you need and lets us know what we haven't done for you. Therefore we do not keep a business phone.  Sorry!
TURNAROUND TIMES
Thank you for your inquiry! We apologize, rush orders are not available and shipping is done by another party, the United States Postal Service or FedEx. Manufacturing times cannot be changed (or rushed). Once the package leaves our facility and is handled by the shipping carrier, we have no control over shipping delivery times or the logistics that causes shipping delays. Therefore, we're unable to personally guarantee any delivery dates on behalf of USPS or FedEx. The shipping times they provide to us are an estimate of their average delivery time. Please be aware that weather, holidays, and unforeseen situations will cause package delivery delays.
We also like to advise our clients to order well in advance if possible to ensure less stress for all parties.
If you purchased off Etsy; Our Turnaround times can be found in the item listing you purchased under "turnaround times."
If you purchased from www.fallfordesign.com; each product page will advertise our processing times in red.  You'll also find the turnaround times for shipping under the shipping tab.
GENERAL INQUIRIES
I apologize, all designs and fonts are trade secrets. We cannot reveal our resources for business purposes. Sorry!
I apologize, proofs are not available prior to purchase. We need to have a paid order to reserve a spot for you on our work list.
Our self inking stamps will give you up to 10,000 stamp impressions before the ink pad needs to be reinked. Self Inking stamps are pre-inked. You can purchase refill ink here.
If you have a mass amount of envelopes (for example) that need to be stamped, please consider the following tip;
The ink in the self inking stamp is like a cake mix. It needs time to settle back down into the ink pad. If your stamping with no breaks, you will experience the ink fading. However, if you give your stamp some time for the ink to settle back down, you will have results like this;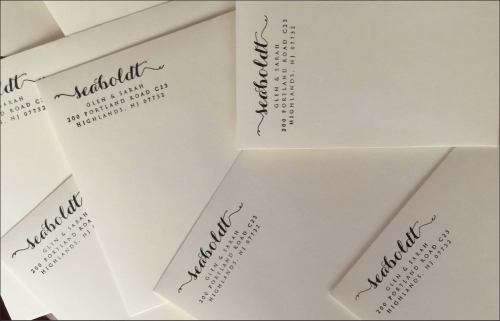 I apologize, we do not pay clients any "inconvenience fees." Mistakes do happen due to human error or whatever the situation may be. We will do our best to resolve the situation within our shop policies. However, we do not refund any charges solely based on the client's inconveniences. In our shop policies under "Clients Deadlines" we advise clients to place their order well in advance so the client can avoid experiencing "inconveniences" with their own personal deadlines.  USPS does not offer refunds for shipping a package, so we don't either.
I apologize.  While we hold ourselves accountable to follow the store policies, we also hold clients accountable to follow the store policies as well.  We understand that situations change and a client may no longer agree with our shop policies after a purchase is made.  However, once a purchase is made than it is expected that the client will follow the shop policies.  Once buyers make a purchase, they mark "Yes" that they have read and agreed to the Terms of Service.  If purchased on Etsy, it says on the bottom of each listing that you agreed to accept our Store Policies according to the Terms of Service found at the bottom of each listing.
Save
Save
Save